Downtown St. Pete: Abby and Michael
These guys were so much fun.  I've never laughed so hard during a toast!  But even before the gorgeous reception at Nova 535...well let's just start when Kristin Tarpley, the planner, called me a few days prior to say that the bride and groom were getting a shuttle to take us where ever we wanted for photos before the ceremony.  Oooh!  Yesssss!  I used to work downtown, but I went back for a refresher and to choose some cool locations.  Little did I know it was the weekend before the Grand Prix.  You know, where downtown is turned into a RACETRACK?!  Oy vey!  Concrete barriers, 15 foot high chain link fences, piles of tires, little access to the waterfront, and a festival with tents and vendors to boot.  Lovely.  Luckily I had photographed downtown landmarks for the Great Explorations museum graphics, so I found a few of my favorites.  Then the morning of the wedding I walked through the farmer's market and found the chalk drawings (such good handwriting) and figured out which locations had the least amount of wind.  The bridal party was willing to try anything, despite the crazy winds.  Thanks you guys!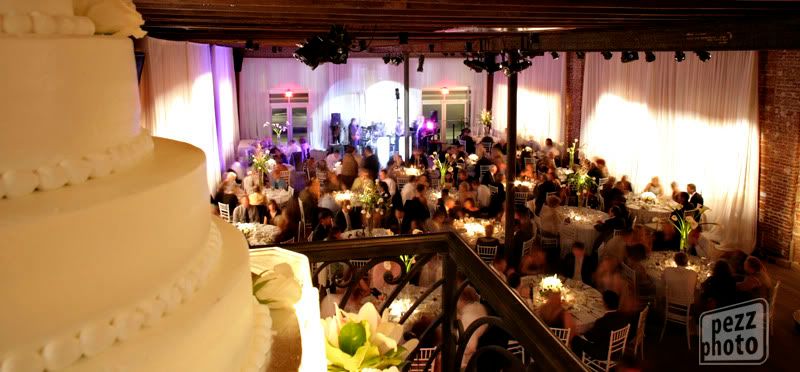 So once we arrived at Nova 535, Abby & Michael did a traditional Katubah signing upstairs (very intimate, emotional, and special- I really enjoyed it).  Then the full ceremony downstairs.  The rabbi was great and explained everything ahead of time for the guests.  Afterwards the guests went outside for a cocktail hour under the tent (music by a 4-piece rock string quartet) while the crew inside flipped the room and turned it into a reception.  Details: Botanica created the floral centerpieces and conceptBAIT did the draping and linens.  It looked gorgeous.  Old family wedding photos were transferred to canvas and hung on wires against the brick wall.  Remember Abby and Michael's signature book?  It was displayed at the door for guests to sign on their way in and throughout the night.  The dance floor was packed after dinner, courtesy of DeLeon.  Favors were white chocolate "lollipops" embossed with the couple's names and the wedding date.  Oh, and the bridesmaids wore various styles of white cocktail dresses, each with their choice of brightly colored shoes!  Fun, stylish and modern all around!
click the arrow below for a slideshow:
Wedding Planner: Alluring Events Makeup & Hair: Colours by Linny Bridesmaids Dresses: The Dressing Room Ceremony and Reception: Nova 535 Florals: Botanica Draping and Linens: conceptBAIT Ceremony Music: Bella Musica Reception Music: DeLeon Chocolate Lollipops: Debbie's Chocolate Delight